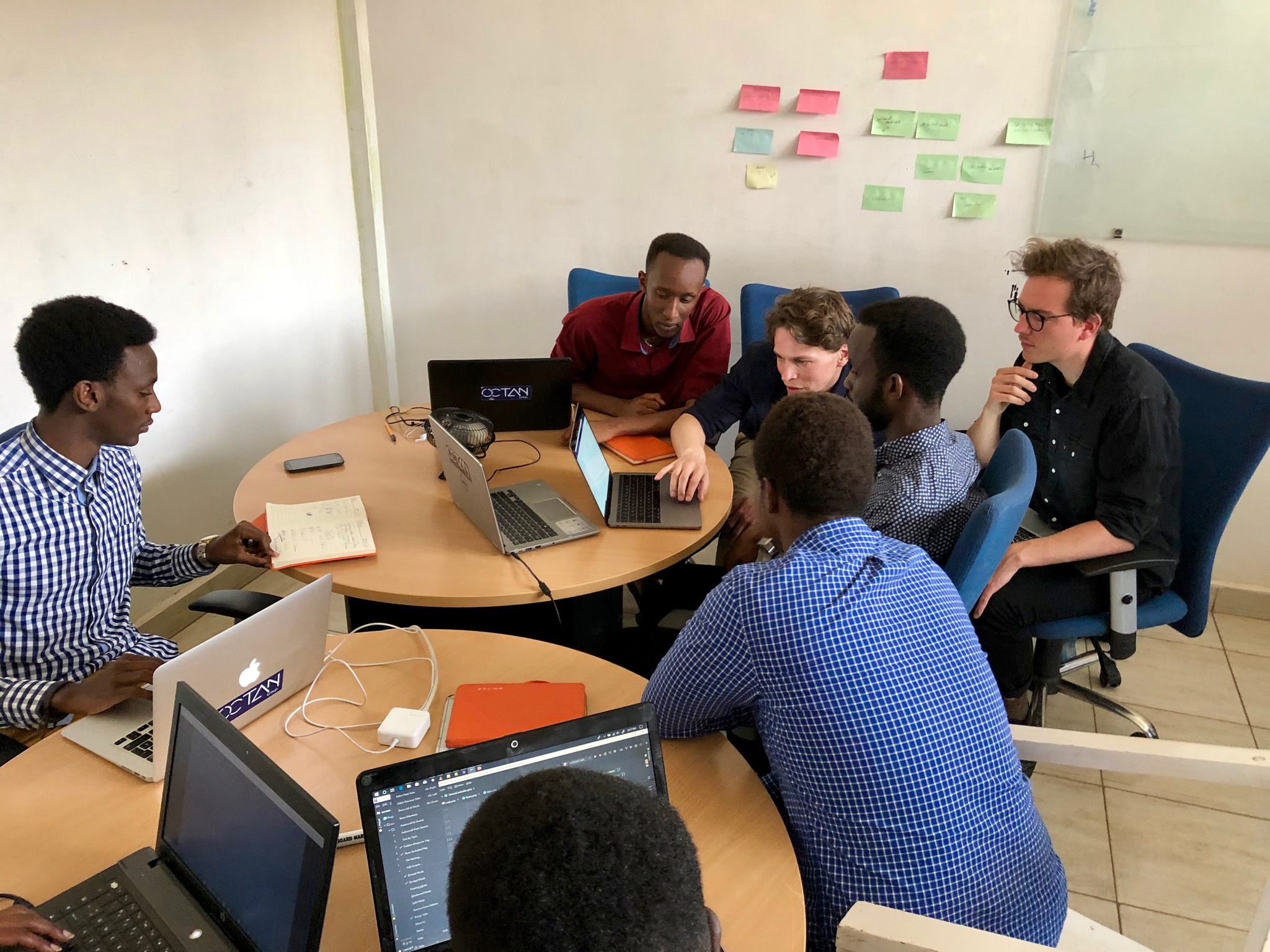 Through the German Rwandan Tech Network we identify experienced developers from Germany that are willing to volunteer their time and spend approximately two weeks in Rwanda, helping advanced local tech teams refine their skills. Usually the German developers will meet with 4-8 tech teams in Kigali for two half-day meetings in which they first assess the level, strengths and weaknesses of the Rwandan tech team and then give recommendations for improvements in processes, tooling and other areas.
The residency is ensued by one or two skype-calls in which the German developer can follow up on their recommendations and the Rwandan tech teams can ask questions that came up during the implementation of any suggestions they found useful.
A pilot of this approach was conducted in February 2019 by the German Rwandan Tech Network co-initiators Eleasar Werbitzky and Ole Spaarmann.
A second iteration has been implemented since July 2019 in the context of an outsourcing-readyness assessment & training programme of the Rwandan ICT Chamber, which it conducts within its cooperation with the German association BITMi, supported by the GIZ.
In this project experienced german developers are included as coaches and paired with a Rwandan developer as a second coach. Together they help established IT companies in Rwanda become outsourcing ready.
In July 2019 German Rwandan Tech Network founding member Christoph Müller was the first coach to travel to Kigali for two weeks. Drawing on his experienced as a CTO who has been an outsourcing-customer he drew up a comprehensive skills-matrix that the Rwandan companies that were included by the ICT Chamber in this assessment & training initiative were evaluated on. He furthermore compiled a list of technology and process recommendations for the individual companies and identified key areas of development that were apparent across all tech-teams.
In September 2019 Michael Bumann was the second German programmer to travel to Kigali as a coach in the context of the ICT Chamber initiative. He continued building up on the skills-matrix and developing the package of recommended technologies and approaches in areas such as requirement engineering, agile processes, continuous integration, documentation, test driven development, automated QA, performance tracking etc..
More coaches will be sent to Kigali to build up on this work in the remaining months of 2019.
Outside of this initiative other mentoring projects are planned, with a focus on enabling Rwandan programmers to work on online platforms such as upwork or fiverr