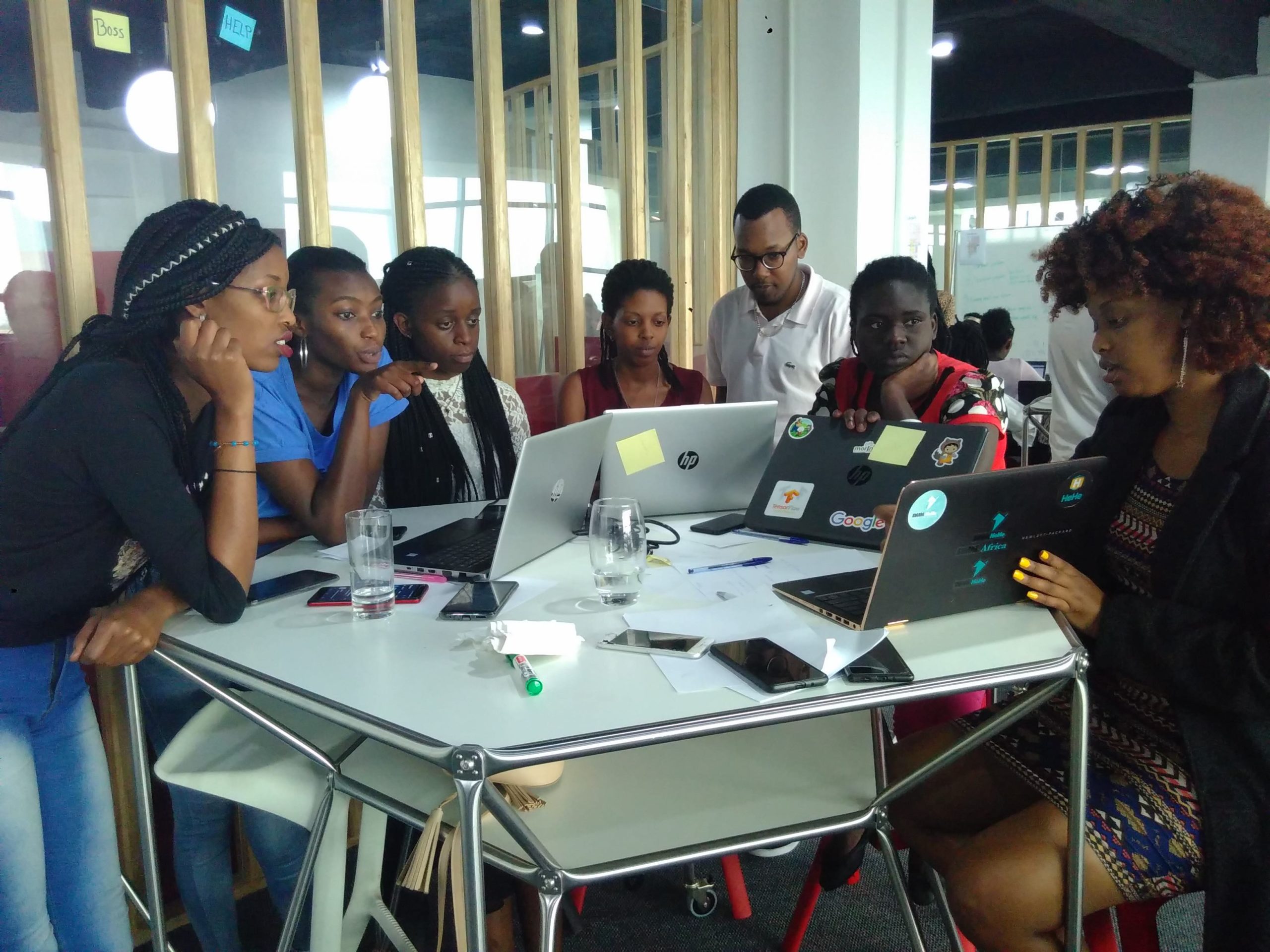 Code+Design Camp is an educational methodology that aims at getting participants with little or no prior programming experience interested in coding.
Bringing the Code+Design Camp methodology to Rwanda has been an initiative by German Rwandan Tech Network founding member Franziska Knauer as well as a team of facilitators from Code University Berlin and the Code+Design Camp association in cooperation with the Digital Transformation Center in Kigali.
The first Code+Design Camp Kigali was implemented at the Digital Transformation Center from the 27th to the 30th of August 2019. A second one took place in November. Participants of both camp have already started follow-up meetups in which they continue their learning journey in the field of programming.
About the Code+Design Camp methodology
A Code+Design Camp is a 3.5 day event in which participants develop ideas for mobile applications and implement them in teams of 3-5 persons. Participants do not need any prior knowledge of programming as they use drag-and-drop app builders during the camp. At the end of the event each team has a working application that they can test on a smartphone. This application gives participants a perfect starting point to start learning how to code, because they have already built a prototype they want to build up on.
The Code and Design Camp is an educational format developed and implemented in Germany by the non-profit association "Code+Design Camp e.V.". They implement dozens of such camps per year all over Germany and have done a few international ones as well.
What makes this educational format stand out is that it focusses both in its marketing and in its implementation on the idea generation process, creativity and teamwork. When it comes to the technology it focusses on defining the logic of how the technology will be working and solving a problem and on how the technology will be interfacing with the user. The format does not focus on how to translate all that into lines of code. This is achieved by using drag-and-drop app-builders and interface-builders like thunkable and figma.
Through this code-line-free approach the format is very successful in attracting participants that would normally not feel encouraged to attend something as geeky and "maths-like" as a digital-product-bootcamp. This also makes it a particularly useful tool for getting more women interested in pursuing technology careers.
By leaving out the code-syntax and focusing on the idea generation and the work on the logic of the application and its interface with the user, the format ensures that participants understand that being a developer is mainly about those things. And it is not mainly about knowing the syntax of a programming language.
Most other high-school outreach initiatives use simple gamified tools based on Scratch. Those tools work well for younger high school students aged 8-12. However older high-school students quickly lose interest when confronted with simple tools like scratch games and ask for something more challenging and more creative. This is often addressed by giving them an introductory course into programming. However those courses remain very theoretical and can therefore be demotivating because they lack a specific and fast outcome.
This is where Code+Design Camp is different because it delivers a final result (a working application) within a 3.5 day workshop. At the end of the camp every participant-team has developed a working app and leaves the event with a success-story. At the same time they will have realized that the drag-and-drop app builders only allow them to reach a certain point with their app. If they want to configure it further, they need to start programming. This immediately leads them to understanding why they need to learn how to code.
So coming out of the Code+Design Camp participants know exactly why they should learn to code, and they already have a project idea – and even a prototype of that project – to which they want to apply the coding skills they now aim to get.
The camp is followed up by regular meetups of the participants that were successfully interested in coding and that want to learn how to program. They are supplied with online-materials and a learning path that they can pursue to further their skills.